Tile Backer Board Insulation
Marmox Type 6mm Tile Backer Insulation Boards are designed to insulate both wall and floors and can be tiled directly over. Ideal for wet room design!
MIN. QTY. 5 Boards any size or mix.
Description
Tile Backer Board Insulation
Available in 6mm, 10mm and 20mm depths. Designed to insulate and resurface walls and floors. The insulation boards can be tiled onto, plastered over and also rendered. Perfect in wet room areas. Likewise very applicable if you have a wooden sub-floor. They can be screwed directly to the wooden floor with cement board washers. In addition, the insulation boards can also be glued down with a flexible tile adhesive. Please note that the 6mm boards are not suitable for walls. In this case, 10mm or 20mm boards should be selected for walls in cases where tiles are being installed over the insulation boards. Please feel free to contact our technical department. If you would like any further information on your specific project. Or a little advice please feel free to get in touch.
Key Features.
Available in 6mm, 10mm and 20mm depths.
Has a high Compression Loading, (35 tonnes per sqm).
Completely waterproof.
Safe and easy to handle.
Easy to cut and install.
Greatly reduces heat loss.
Speeds up response rate of the heating system.
Increases the efficiency of your heating system.
Tile backer insulation boards also greatly improve the overall efficiency of your underfloor heating system. For example on a concrete floor without insulation warm up times can be first of all up to an hour. And with insulation warm up times can be as little as 10 minutes. Because the insulation creates a quicker warmup time this reduces the cost of your heating bills.
Additional information
| | |
| --- | --- |
| Board Size | 1200mm x 600mm |
| Covers | 0.72m2 |
| Thermal Conductivity W/mK | 0.027 Prevents heat loss |
| Thermal Resistance sqmK/W | 0.85 Blocks out cold |
| Fire Protection Class | BS 3837 B1 DIN British Standard |
| Compression strength KPa 25% | 400 A minimum of 40 metric tonnes, (yes tonnes!) can be placed on 1 m2 without damage |
| Water penetration (96 hours) | 0.00 Waterproof |
Delivery
DELIVERY OPTIONS
Our delivery costs vary according to order size and location. For more info send us an email or give us a call on 01803 316060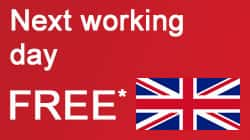 Orders placed before 12:00pm will be dispatched that day for a next working day delivery to all UK mainland addresses excluding, Channel islands & Eire on our entire range of heating products.
Trusted delivery partners