All images © 2021 - Living Heat Ltd
Backer Board PRO Tanking Tape
Backer Board PRO
High tack self-adhesive bond
Waterproof
Stable surface, permanently flexible backing
Easy to cut and apply with easy peel backing
Suitable for all internal wet areas
Can be tiled directly over
Available in 3 roll/width sizes
Backer Board PRO Tanking Tape
Backer Board PRO Tanking Tape is a self-adhesive butyl backed fleece tape/mat designed to provide a waterproof seal prior to tiling on board joints, corner joints and pipe entries in shower areas, wet rooms, wet zones and anywhere where a watertight seal to a corner, gap or crack is required.
Can be tiled straight onto areas that are waterproof (i.e. wet room boards) or used in a Wet Room System to promote a 100% waterproof membrane to conventional plaster and timber based boards.
The unique butyl fleece provides cross directional stability to accommodate board movements occurring in different directions at the same time, essential to provide a permanent watertight seal.
Backer Board PRO Tanking Tape Do's and Don'ts
Do not use on surfaces treated with white spirit or stearate based coatings.
Do not use in areas subject to excessive temperatures.
Please note all surfaces must be clean, sound and dust free. The installer takes responsibility to check surface/application suitability prior to fixing in place. Should you have any questions please do not hesitate to contact ourselves where we have a technical team to assist you.
Delivery
DELIVERY OPTIONS
We offer Free next working day delivery for virtually all products and standard UK mainland addresses. If you are not in a standard mainland address our delivery costs vary according to order size and location. For more information please feel free to send us an email or give us a call on 01803 316060. We are here to help.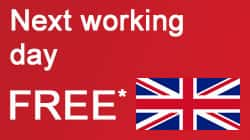 Orders placed before 12:00 pm will be dispatched that day for a next working day delivery to all UK mainland addresses excluding, Channel Islands & Eire on our entire range of heating products.
Trusted delivery partners