Underfloor Heating Mats 150w
Multiple mats can be wired into a single thermostat, and the thermostats can take up to 16amp or 3600 watts of load (150w x 23sqm = 3450 watts). After which you would simply need to install a contact or relay switch.
Underfloor Heating Mat 150w per square metre ideal for standard household areas or simply for heating the floor.
With a choice of thermostat from simple manuals to colour touch screens
Underfloor Heating Mat 150w
Underfloor Heating mat 150w/m2. These heat mats are designed to be a secondary heat source in most common areas of your home. However if more than 80% of the floor area is heated using these mats, it can be considered a primary heat source. Heating mats are easy to install and are simply rolled out making them ideal for regularly shaped areas, for example in kitchens, hallways etc. Living Heat heating mats can be easily manipulated around objects. And the cable can be pulled off of the mesh backing to be laid free hand in some areas. The mats measure 0.5m in width and the largest run available on a single mat is 32m in length. It is also recommended that an insulation layer is installed under the heating system. This is especially relevant on a concrete sub floor because the concrete floor will absorb the heat. As a rule of thumb, we would recommend heating between 70 and 90% of your total floor area for maintaining a primary heat source. Most of all if you have any questions or would just like a little advice take a look at our installation guides. Finally, give us a call for a personal and also free design service on 01803 316060.
---
A choice of underfloor heating thermostat
We offer one of the largest ranges of thermostat options which are ever expanding. All our Living Heat thermostats will fit a standard 1 gang back box. And can take a maximum load of 16amps or 3600 watts of heating without the need of a contact or relay switch. These industry leading thermostats are all designed to be easy to use and install. To find out more about each underfloor heating thermostats unique features.
---
Underfloor Heating Mat Floor Build Up
Starting at the sub floor which can be either wood or concrete. The following layer will be a thin bed of flexible adhesive about 4mm thick to stick down your insulation boards. Next, you will have your insulation board itself. Creating a base to lay your underfloor heating mats. Once the mats are laid you have two options. In this example we have shown the tiles being laid directly onto the heating mat, however, a self-levelling compound can also be poured over the cables prior to tiling. Providing an even conduction of heat and a protective layer whilst tilling. And finally, the tiles can be stuck down with a standard 6mm bed of flexible adhesive. Please also ensure that the tiles are laid with an even bed of adhesive for equal heat distribution and cable coverage. So, in conclusion, the floor will be raised dependent on a few variables by:
4mm bed of flexible adhesive.
6mm insulation board. (10mm & 20mm insulation also available).
2.5mm Underfloor Heating mats 150w. Enveloped into levelling or tile adhesive.
6mm bed of tile adhesive.
Tiles in this example 10mm tiles
Making a total additional floor height of 26mm dependent on chosen variables of insulation and tile heights.

At Living Heat we offer a free design service to make the whole process a little easier. If you would like a free quote or just a little more information please feel free to get in touch with us on 01803 316131. Our time and advice is free and we can recommend the best underfloor heating system for you.
Additional information
| | |
| --- | --- |
| Thermostat | No Thermostat, M5 Manual Thermostat, M100 Manual Thermostat, T5 Touch Screen Thermostat, T700 Thermostat White, T700 Thermostat Silver, T700 Thermostat Black, D600 Thermostat White, D600 Thermostat Silver, D600 Thermostat Black, Wi5 Wifi Thermostat, White i8 WIFI Thermostat, Black & Silver i8 WIFI Thermostat, Black i8 WIFI Thermostat, White Colour Touch Screen Thermostat, Silver Colour Touch Screen Thermostat, Black Colour Touch Screen Thermostat |
| Supply Voltage | 230/240v 50hz |
| Mat Width | 0.5m |
| Connection tail | 3m long cold / connection tails. |
| Fitting | Full fitting instructions and warranty card. |
| Warranty | Lifetime warranty on heating system. |
| Technical | Free technical help line. |
Thermostats
M5 Thermostat
Manual Thermostat
Simple Control
Large LED
M100 Thermostat
Manual Thermostat
On/Off Switch
Turn Dial
T5 Thermostat
Touch Screen
Programmable
Large LED Screen
D600 Thermostat
Push Button
Programmable
Large LED Screen
T700 Thermostat
Touch Screen
Programmable
Large LED Screen
Wi5 Thermostat
Touch Screen
Programmable
Large LED Screen
Wi-Fi Compatibility
CT1000 Thermostat
Colour Touch Screen
Programmable
Large LED Screen
i8 Thermostat
Touch Screen
Programmable
Large LED Screen
Wi-Fi Compatibility
Instructions
Electric Underfloor Heating Fitting Instructions
This PDF (1.85mb) instruction guide covers Living Heat Underfloor Heating Mats and Loose Cable Systems as well help and advice regarding installation of suitable hard and tile backer board insulation boards. This guide should answer most questions you may have regarding installing electric underfloor heating systems, but if you still have questions please feel free to contact us and one of our technical team will be happy to help.
Delivery
DELIVERY OPTIONS We offer Free next working day delivery for virtually all products and standard UK mainland addresses. If you are not in a standard mainland address our delivery costs vary according to order size and location. For more information please feel free to send us an email or give us a call on 01803 316060. We are here to help.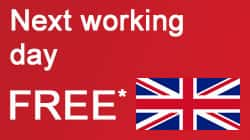 Orders placed before 12:00 pm will be dispatched that day for a next working day delivery to all UK mainland addresses excluding, Channel Islands & Eire on our entire range of heating products.
Trusted delivery partners