Installing Underfloor Heating.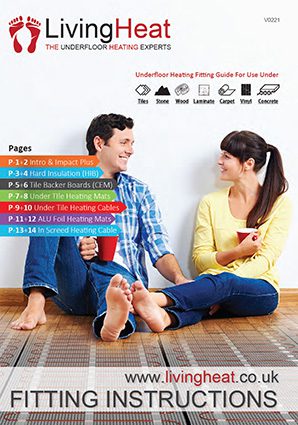 Fitting Instructions
This PDF to your left contains fitting instructions for all living heat under floor heating products. and should answer any questions you may have, However, if you still have questions please feel free to contact us, and one of our technical team will be happy to help.
· Page 1 + 2, Index & Q&A
· Page 3 + 4, Loose Wire Installation
· Page 5 + 6, Heat Mat Installation
· Page 7 + 8, Heat Foil Mat Installation
· Page 9 + 10, Heat Film Installation
· Page 11 + 12, In screed Cable Installation
· Page 13 + 14, Hard Insulation boards
· Page 15 + 16, Tile Backer Insulation boards
· Page 17 + 18, Impact Plus Insulation & Q&A
D600 Thermostat Instructions.
Our latest digital thermostat instruction will tell you everything you need to know. And if a video is more your speed please click below.
CT1000 Colour Touch Screen Thermostat.
Our most advanced thermostat requires almost no instructions however if you would like to look over the advanced settings please free to download the instruction manual.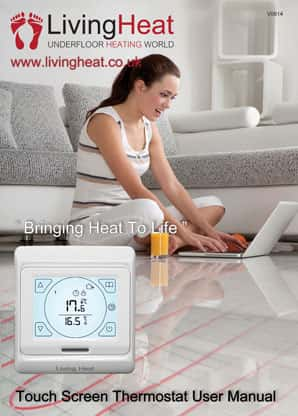 T700 Thermostat Instructions.
Our latest touch screen thermostat is the big brother to the D600 thermostat bringing you all the fancy features with touch screen capabilities.
D500 Thermostat Instructions.
If you have one of our older thermostats please feel free to download the instructions below. we don't like leaving customers in the lurch.
i8 WIFI Thermostat Instructions.
Our latest WIFI thermostat is the ultimate in heating control. From anywhere in the world, bringing you all the fancy features.
Living Heat Ltd
unit 1, 104 Barton Road
Torquay, Devon
TQ2 7NY
If you have any questions or require further assistance please do not hesitate to contact ourselves. Our time and advice is free.
Tel :0800 634 2737
Tel :01803 316060
Fax: 01803 312000
Email: sales@Livingheat.co.uk

Social
Please feel free to share our great products with friends and family and let them experience the benifits of underfloor heating.
Warranties
Please use the link below to fill in your warranty.
© Copyright Living Heat Ltd 2015 – Company Registration no:5466356 – Vat Redistered:861161442