Underfloor Heating Film
Under laminate heating 200w/m2, Heat Film is a luxury yet very affordable heating system suitable for floor warming or as the primary heat source in most rooms including conservatories.
Description
Under Laminate Heating System.
Under laminate heating or electric underfloor Heating 200w/m2 heat film kits. Designed for heating under wood, laminate and floors. Due to its ultra-even heat distribution it is ideal as a primary heat source in your room. Laid directly under wood or laminate floors with our impact plus insulation, which bounces the heat up into your room. The film mats can also be laid under vinyl floors. With an additional layer of our duo overlay. The impact plus insulation and duo overlay can be purchased from our shop.
Under Laminate Heating Film Mats
Underfloor heating film mats are a bespoke product that is custom made to fit your room. Hence the room or mat dimensions are always required to complete your order. We offer a free design service to help you in this process if needed. Simply email us a rough dimensional sketch of your room and state what floor covering you will be laying and we can do the rest. However, if you would like to plan out your underfloor heating system yourself. The Film mats are available in three sizes 1m, 0.5m and 0.8m wide and can be cut every 250mm increments in length. The 200w/m2 heat film comes with a 15-year guarantee and has no moving parts, so once installed can be left to its own devices. If you would like a free no obligation please feel free to get in contact with us on 01803 316060
---
A choice of underfloor heating thermostat
We offer one of the largest ranges of thermostat options which are ever expanding. All our Living Heat thermostats will fit a standard 1 gang back box. And can take a maximum load of 16amps or 3600 watts of heating without the need of a contact or relay switch. These industry leading thermostats are all designed to be easy to use and install. To find out more about each underfloor heating thermostats unique features.
---
Underfloor Heating Cable Floor Build Up
Starting at the sub floor which can be either a wood or concrete sub straight. The following layer will be the impact plus insulation. Creating a base to lay your underfloor heating mats as well as insulating the impact plus also protects the heating from any sharp or pointed objects from the sub floor. Once your insulation is laid the heat mats can be laid directly onto the insulation. And the vapour barrier can go down onto the mats. Under wood and laminate floors the floor covering can go straight onto the vapour barrier. However, with vinyl floors, an additional layer of duo overlay will need to be laid before the vinyl can be installed. So, in conclusion, the floor will be raised dependent on a few variables by:
6mm impact plus insulation.
0.33mm Underfloor Heating film mats.
0.33mm vapour barrier.
Wood or laminate flooring (10mm in this example).
Making a total additional floor height of 17mm dependent on chosen variables of wood or laminate depth.

At Living Heat we offer a free design service to make the whole process a little easier. If you would like a free quote or just a little more information please feel free to get in touch with us on 01803 316131. Our time and advice is free and we can recommend the best underfloor heating system for you.
Additional information
| | |
| --- | --- |
| Thermostat | No Thermostat, M5 Manual Thermostat, M100 Manual Thermostat, T5 Touch Screen Thermostat, T700 Thermostat White, T700 Thermostat Silver, T700 Thermostat Black, D600 Thermostat White, D600 Thermostat Silver, D600 Thermostat Black, Wi5 Wifi Thermostat, White i8 WIFI Thermostat, Black & Silver i8 WIFI Thermostat, Black i8 WIFI Thermostat, White Colour Touch Screen Thermostat, Silver Colour Touch Screen Thermostat, Black Colour Touch Screen Thermostat |
| Supply Voltage | 230/240v 50hz |
| Mat Width | 0.5m |
| Connection tail | 3m long cold / connection tails. |
| Fitting | Full fitting instructions and warranty card. |
| Warranty | 15 Year warranty on heating system. |
| Technical | Free technical help line. |
Thermostats
Manual Thermostat
Simple Control
Large LED
Manual Thermostat
On/Off Switch
Turn Dial
Touch Screen
Programmable
Large LED Screen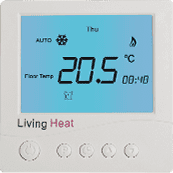 Push Button
Programmable
Large LED Screen
Touch Screen
Programmable
Large LED Screen
Touch Screen
Programmable
Large LED Screen
Wi-Fi Compatibility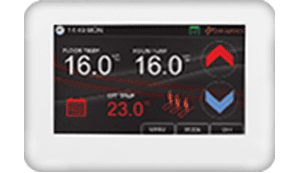 Colour Touch Screen
Programmable
Large LED Screen
Touch Screen
Programmable
Large LED Screen
Wi-Fi Compatibility
Delivery
DELIVERY OPTIONS
We offer Free next working day delivery for virtually all products and standard UK mainland addresses. If you are not in a standard mainland address our delivery costs vary according to order size and location. For more information please feel free to send us an email or give us a call on 01803 316060. We are here to help.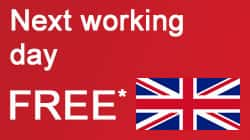 Orders placed before 12:00 pm will be dispatched that day for a next working day delivery to all UK mainland addresses excluding, Channel Islands & Eire on our entire range of heating products.
Trusted delivery partners