Wetroom Showerlay Shower Trays 20mm
Ideal for use with underfloor heating, the shower tray boards are easy to fit and provide a level and unobstructed shower base. The board is a 20mm reinforced thermal insulation board with preformed slopes to a central drain position. 3 Sizes are available and the boards can be easily cut to size if required. Also, additional 6mm, 10mm or 20mm tile backer boards can be used to extend the wetroom floor to any sizes needed.
Wetroom Showerlay Shower Trays for Wet Rooms
Living Heat wetroom showerlay sower trays are designed to create a wetroom shower floor. The trays can be easily cut down to size or extended with additional boards is needed. Once installed the tray provide a level access unobstructed wetroom floor. All try's are supplied complete with a free fast flow drain and stainless steel grate and backed up with a manufacturer's lifetime warranty.
When fitting Living Heat shower lay shower trays it is important to follow the correct procedure to achieve the best results. We have included an instructional guide to achieve best results when fitting Living Heat shower lay trays. If you have any further questions please feel free to contact Living Heat technical on 01803 316060.
Delivery
DELIVERY OPTIONS
We offer Free next working day delivery for virtually all products and standard UK mainland addresses. If you are not in a standard mainland address our delivery costs vary according to order size and location. For more information please feel free to send us an email or give us a call on 01803 316060. We are here to help.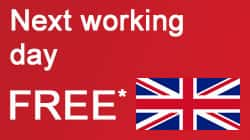 Orders placed before 12:00 pm will be dispatched that day for a next working day delivery to all UK mainland addresses excluding, Channel Islands & Eire on our entire range of heating products.
Trusted delivery partners