D600 Manual Digital Thermostat
Underfloor Heating Controller Designed to control virtually all types of underfloor heating systems they have a modern low profile design but remain easy to operate and will allow the user to control the heating to suit their life style.
Available in choice of 3 colours. White, Silver or Black
Underfloor Heating Controller D600 Digital Thermostat
The underfloor heating controller or D600 digital thermostats. Are programmable controllers with both air and floor sensors, equipped with a large 3.1″ blue LCD screen and with smart heating control features found in most modern thermostats. However, they still remain easy to use with all underfloor heating systems found in the Living Heat store. Available in white, black and brushed silver. Once installed they will add a stylish modern touch to any room. The D600 Thermostat can take a maximum load of 3600 watts or 16amps after which the thermostat would require a contact or snubber switch.
At living heat, we are always striving to improve our services. We take on board all suggestions. And with the modern age. We will be bringing you a series of installation and user instructions in video format. The D600 thermostat video, Takes you through everything. From wiring to fitting and also programming instructions for a brilliant overview of how to install and use the thermostat. We also stock a large range of thermostats to choose from.
Features / Technical Specifications
4 Timed events per day and 7-day programmable cycle
Holiday and economy power settings
Manual over ride facility
Air and Floor temperature sensors
Blue LED back light for easy viewing
Low Profile Design
Fits a standard 1 gang electrical wall box
Extendable 3 to 15m floor probe
1-Year manufacturer's warranty
Available in choice of 3 colours. White, Silver or Black
Any Questions?
As with all our products. We try to cover and include all information you may need to make a decision. But if we haven't answered a question that needs an answer please feel free to get in touch with us. Our time and advice is free and the most important thing is that you end up with the right product for you at the right price.
Delivery
DELIVERY OPTIONS
We offer Free next working day delivery for virtually all products and standard UK mainland addresses. If you are not in a standard mainland address our delivery costs vary according to order size and location. For more information please feel free to send us an email or give us a call on 01803 316060. We are here to help.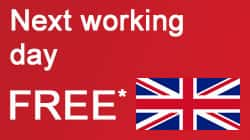 Orders placed before 12:00 pm will be dispatched that day for a next working day delivery to all UK mainland addresses excluding, Channel Islands & Eire on our entire range of heating products.
Trusted delivery partners