Aqua Seal Tape
Aqua seal Waterproof Tanking Tape is a self-adhesive backed fleece tape. Designed to provide a water proof seal over insulation board joints, corner joints and pipe entries in shower areas or wet rooms prior to tiling.
Description
Tanking tape aquaseal tanking kit.
Tanking tape or aquaseal tanking kits are ideal for sealing and water proofing wet rooms. Designed to stick along the seams and joints of our Living Heat tile backer insulation boards. And as the tile backer insulation boards are also waterproof. Consequently with all the joints and seams covered the wet room will be completely water proof with no messy painting of a sealing agent. Aquaseal tanking tape has an easy peel backing. Which can be peeled off allowing you to stick the tape over the board's joints and seams. If you have any questions or queries please feel free to get in touch with our technical team who can answer any questions you may have.
Wet room Kits
Heated wet rooms have never been easier with Living Heat. Our shower trays offer some fantastic solutions. They create a stable base, that can be tilled directly onto and are designed with natural falls. To either a central or off centre drain position. And our 20mm tile backer boards are created in the same heights as the shower trays allowing you to create a completely flush wet room design. With no steps or lips into the shower area. And as an added bonus both the shower trays and tile backer boards are 100% waterproof.
Underfloor Heating & Flexible Adhesive
Our under tile underfloor heating cables can go directly onto the shower trays and the tile backer boards. For luxuriously warm tiles to step on when you get out of the shower. Also our rapid setting flexible adhesives are readily available and are suitable for under tile, underfloor heating systems.
If you have any questions or would just like a little advice please feel free to give us a call our time and advice is free and we are always here to help.
Delivery
DELIVERY OPTIONS
We offer Free next working day delivery for virtually all products and standard UK mainland addresses. If you are not in a standard mainland address our delivery costs vary according to order size and location. For more information please feel free to send us an email or give us a call on 01803 316060. We are here to help.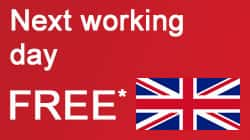 Orders placed before 12:00 pm will be dispatched that day for a next working day delivery to all UK mainland addresses excluding, Channel Islands & Eire on our entire range of heating products.
Trusted delivery partners