Aqua Seal Tape
Aqua Seal Tape
High tack self-adhesive bond.
Waterproof.
Stable surface, permanently flexible backing.
Easy to cut and apply with easy peel backing.
PRO 10m x 105mm role size for vertical and horizontal joints.
ECO 5m x 80mm role size for vertical and horizontal joints.
Suitable for all internal wet areas.
Can be tiled directly over.
Can be over painted with Aqua seal or Mapei gum to waterproof non-waterproof boards/backings such as plaster boards.
Description
Tanking Tape Aquaseal Tanking Kit
Tanking tape or Aquaseal tanking kits are ideal for sealing and water proofing wet rooms. Designed to stick along the seams and joints of our Living Heat tile backer insulation boards. And as the tile backer insulation boards are also waterproof. Consequently with all the joints and seams covered the wet room will be completely water proof with no messy painting of a sealing agent. Aquaseal tanking tape has an easy peel backing. Which can be peeled off allowing you to stick the tape over the board's joints and seams. If you have any questions or queries please feel free to get in touch with our technical team who can answer any questions you may have.
---
---
Delivery
DELIVERY OPTIONS
We offer Free next working day delivery for virtually all products and standard UK mainland addresses. If you are not in a standard mainland address our delivery costs vary according to order size and location. For more information please feel free to send us an email or give us a call on 01803 316060. We are here to help.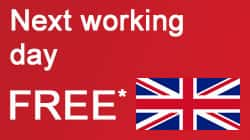 Orders placed before 12:00 pm will be dispatched that day for a next working day delivery to all UK mainland addresses excluding, Channel Islands & Eire on our entire range of heating products.
Trusted delivery partners