20kg Flexible Rapid Set Adhesive
Underfloor Heating World supplies flexible white and grey adhesive to fix both the under floor insulation boards, tile and stone coverings you may be considering when installing your underfloor heating systems. Also available is additional heat resistant fixing tape to aid in the fitting of all underfloor heating systems.
Description
Flexible Adhesive
Flexible adhesive or rapid set tile adhesive. Is Ideal for use with our underfloor heating systems. And is designed for use under ceramic and porcelain tiles as well as stone floors. Available in either white or grey colours dependent on whether the tiles are porous or transparent.
Key Features.
Flexible tile adhesive. Requires no additional additives to the mix besides water.
Ideally suited for use with our underfloor heating systems.
When the adhesive is set it is totally water proof.
Fast setting tile adhesive. Can be grouted over approximately 2 to 3 hours after tiles are fitted depending on ambient temperature.
Suitable for internal and external use. Frost and ice resistant.
Has an Unparalleled sump resistance. Floor tiles will not sink down into adhesive whilst adhesive is setting.
Massive grab / Non-Slip formula. Wall tiles & even heavy stone tiles, once positioned will not slip down the wall whilst adhesive is setting.
Mixes very easily and consistently.
White or grey in colour so the colour will not bleed through natural stone tiles or show up under glass tiles.
Technical Specifications.
Non-Slip – Euro compliance code C2FT.
Coverage 4 to 10m2 per 20kg depending upon, floor or wall application. Surface irregularities, depth of adhesive required.
Working Time @ 20°c +/-40 minutes.
Serviceable temperature -20 to 80°c.
Bulk Orders
For large orders over 10 bags, we offer a bulk discount.
If you have any questions or queries Please don't hesitate to contact us 01803 316060.
Delivery
DELIVERY OPTIONS
We offer Free next working day delivery for virtually all products and standard UK mainland addresses. If you are not in a standard mainland address our delivery costs vary according to order size and location. For more information please feel free to send us an email or give us a call on 01803 316060. We are here to help.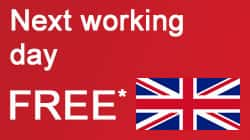 Orders placed before 12:00 pm will be dispatched that day for a next working day delivery to all UK mainland addresses excluding, Channel Islands & Eire on our entire range of heating products.
Trusted delivery partners